Yesterday, I stumbled upon a series that's been goin' on called Grow Your Blog.
Um, of course I read all of them.
Who doesn't want to grow their blog?
It took up a good chunk of time, but so worth it.
These women are straight up networking smarty-pants.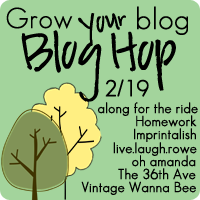 And now today is the Blog Hop.
Where you link up your blog and then go make new friends with the others who do the same.
Um, of course I linked up.
Who doesn't want new friends?
So if you're here from the Blog Hop, I'm super glad to have you!
Leave me a comment so we can be instant best friends.
Because really, that's what this bloggin' biz is all about.